A deep skin booster designed to give your skin a glowing complexion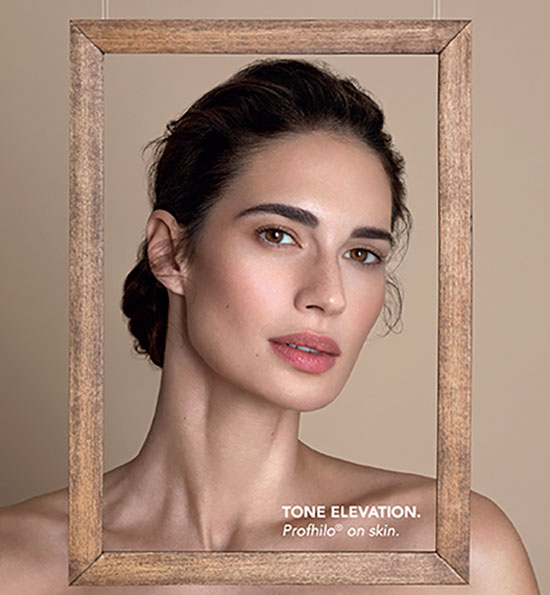 Profhilo® is a deep skin booster designed to give your skin a glowing complexion. It is perfect for dull, tired, aging skin that is in desperate need of a burst of vitality. Collagen, Elastin and Hyaluronic Acid (HA) are lost as we get older, causing the skin to wrinkle, sag and fold. By stimulating the production of Collagen and Elastin within this treatment, it will improve the appearance of fine lines and wrinkles.
Depending on the aging stadia of your skin, after the second treatment, you will start seeing the structural changes in the fine lines. Because of its remarkable anti-inflammatory properties, Profhilo® can also be used to treat acne, rosacea, psoriasis and eczema, with excellent results.
Profhilo is most commonly used for facial areas, but can also be used to rejuvenate the neck, decollete, arms, knees and hands.

HOW DOES PROFHILO WORK?
HA is hydrophilic, meaning it draws and holds water from your body, so Profhilo acts as a hydrator rather than a filler. This makes it fantastic for those with tired, dull-looking skin, transforming it into firm and luminous skin. This effect takes place within 3-5 days of treatment.
Over the next few weeks collagen and elastin production is stimulated, producing a secondary effect of skin tightening. This is useful because levels of collagen, elastin and Hyaluronic Acid in the skin rapidly drop from the age of 30, resulting in signs of ageing such as fine lines, wrinkles and lacklustre skin. Profhilo acts to reverse some of these changes. The maximum effect of Profhilo is usually seen 2 months after the second treatment.

WHAT DOES PROFHILO TREATMENT INVOLVE?
Profhilo is injected just below the skin's surface over 2 sessions 4 weeks apart. The treatment is quick and you might experience a slight discomfort during the injections. After injection the product disperses quickly beneath the skin to improve hydration. Profhilo is absorbed within a 2cm radius of its injection site, so to treat the face only 10 injection points are needed in total.
A single course of Profhilo involves 2 injectable treatments 4 weeks apart, after which you can expect to see an intense hydration. It makes the skin glow, fine lines can disappear and you'll notice smoother, tighter skin. Courses of two treatments can be repeated every six months as needed to maintain the results.

IS THERE ANY DOWNTIME?
Right after the treatment you might notice little bumps from the injection points, these last between 8 and 24 hours but have no further implications to return to normal activities. The downtime following a treatment is minimal, and you should be able to return to normal 'light' daily activities immediately after your procedure. However, we recommend that you avoid physical strain and sports on the first day after the treatment, and don't have a sauna or steamy bath for the first 5 days. You should also avoid INTENSE sun or UV light exposure for the first few 5 after treatment since the UV light might degrade the product faster.

ARE THERE ANY SIDE-EFFECTS?
As with all non-surgical aesthetic treatments there is a risk of side-effects, such as minor bruising or swelling at the injection sites. These do not usually occur and generally subside quickly when they do.
Although Profhilo doesn't have any harmful chemicals, there aren't studies on pregnant women, therefore is not recommended for women who are pregnant or breastfeeding.
If you are considering Profhilo treatment and would like to discuss whether it is right for you, do not hesitate to get in contact with us and plan an appointment to discuss your concerns.


Ready to reveal your beauty?